March 25th, 2011
Thank you for your nice notes and continued interested in the comic. I can't possibly describe how much that means to me. There is so much going on here that keeps me from getting back to the comic, and your notes tell me it's not just ME that wants to get back to it. I am grateful from the bottom of my heart.
I have been drawing whenever I can, as well as experimenting with new media. I thought you might like to see excerpts from my sketchbooks. My sketchbooks are mainly "brain dumps" which range from aimless doodling, experiments for new comic things and sometimes quick sketches from scenes from tv or real life.
Don't laugh.
Sometimes I draw things that are on my desk or in my field of view just to warm up.  The bunny pez dispenser that is currently next to my monitor has been drawn more than once, usually in pencil or ball point pen.  This picture of Bunny Pez was done to try out a new set of colored pencils. (Derwent's Inktense pencils with a light wash.) Hmm… I need to get a sketchbook specifically for watercolor pencils if I'm going to do this regularly.
Yes, I'm saying I need another sketchbook even though I already have several. I like keeping them handy and, well, I just like them. My current favorite is a giant hardback one that I keep next to the couch. I doodle in it with a ball point pen (Pilot G-2…I do not recommend for final art as it smudges, but it has a great ink flow.  Excellent for writing, though.)  I love opening up the big book and just doodling while watching TV or sitting outside or while chatting on the phone. On the right side of the page, I had made a series of squiggles and forced myself to make a picture out of them, something I've been doing since elementary school. (In school, I'd do this with a friend: One person would make a squiggle and challenge another person to make a pic out of it, then that person would make a squiggle in return.)
You won't see too many images from the big doodle book because it's too big for my scanner. I had to scan the Doodle Page image twice and merge the images together in Photoshop. Even so, the left side of the page was cut off a bit.
Here are some experiments with Zelda's younger look. Many readers have said they'd like to know more about the adventures of Zelda and Bill when they were a bit younger and there are some stories I would like to tell.  There are also sketches of  "fantasy" Zelda, for stories which take place in a fantasy version of the comic, which will also crop up from time to time.
Finally, if you aren't a reader on our facebook page, the below image of Zelda as "Sleeping Beauty" will be new to you: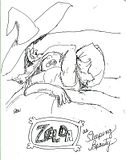 This was done completely with ball point pen (that smudgy Pilot G-2). I had so much fun with this one, I intend to redo it along with a series of our regular Zelda as famous fantasy princesses. All of which will be as unflattering as this one, of course!
I hope you enjoyed these glimpses into my sketchbooks.  You and your comments are always welcome.